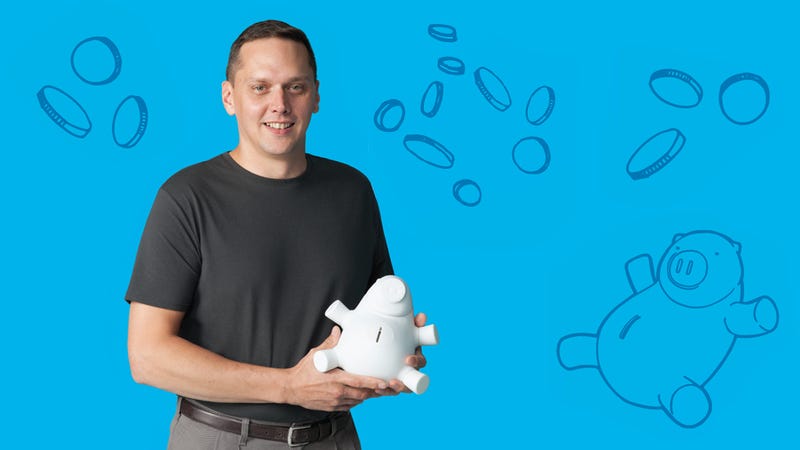 As the inventor of Porkfolio — the smarter version of your childhood piggy bank — and the father of a young daughter, Jason Hunter knows the value of gadgets that are practical, entertaining, and educational. Since joining Quirky in 2011, Jason has become an avid member of the creative community as both an inventor and an influencer, making him an ideal source of gift-worthy Quirky products for every character on your holiday shopping list.
The Story Behind Porkfolio
For Jason, being an inventor and a father go hand in hand. "My daughter, Taylor, played a pivotal inspirational role in my Smart Piggy Bank idea, which has evolved into Porkfolio." A committed online banker, Jason wanted a way for his daughter, living two states away, to have a visual representation of the money he was depositing into her piggy bank. That's how his idea for Porkfolio was born — and with the help of Quirky and the input of fellow members, his concept became a fun, educational tool and a perfect gift for kids and adults alike.
Piggy banks of the past had a serious design flaw: you had to destroy them just to see how much money you'd saved. Jason's upgraded piggy bank solves that problem by connecting the bank to an app that allows users to track their balance (without smashing their adorable Porkfolio), and even set financial goals from their phone. Porkfolio is perfect for teaching kids about financial responsibility: it has the cute factor going for it (it's hard to resist a fat little piggy that keeps your money safe), but it also gives children the chance to become budgeting pros, empowering them to be financially savvy at a young age. Porkfolio may have been designed with Jason's twelve-year-old daughter in mind, but adults will also appreciate its whimsy and practicality. According to Jason, "from children to grown adults, I think it is a simple and unique old-meets-new product idea that everyone can relate to."
Jason's Gift Ideas for Every Family Member
Jason stands behind Porkfolio as his "number one gift of the year," but as a devoted Quirky fan, he had great ideas for other Quirky products that make creative and useful holiday presents for everyone from in-laws to grandmothers.
Contort Power
Looking for a gift your jet-setting, always on the go, coworker or in-law will appreciate? Contort Power is a great device for people who are constantly on the move, and need to stay charged and connected no matter where they are. It's a sleek, portable power adaptor that provides two USB and AC outlets for easy charging.
Jason: "A great stocking stuffer for college-bound family members or coworkers."
Verseur
The Verseur is a wine-lover's dream, and the perfect gift for your lush aunt or self-proclaimed sommelier father-in-law. It's a handy little multi-tool that opens, pours, and saves wine.
Jason: "A great-looking product. Even if they are not an avid wine drinker, I think your giftee will appreciate this product."
Pluck
Pluck makes the task of separating egg whites from their yolks easy as pie (which is just one of the recipes this kitchen gadget simplifies). Its a perfect pre-holiday gift for a mother or grandmother who seem to churn out baked goods like a factory this time of year.
Jason: "A great gift for my mom and her coffee buddies."
Grill Wrangler
Your dad and brother consider themselves far more than average grillers, and Grill Wrangler is no average grilling utensil. It's a spatula, fork, and tongs combined into one hybrid grill gadget that will impress the barbecue experts in your family.
Jason: "A perfect gift for Dad, a brother, or an in-law."
Hopefully Jason's help has left you feeling a little more relaxed (maybe even excited?) about finding gifts everyone in your family will love. Head here to check out the Quirky community at work, and find more innovative gifts created by inventors like Jason.
This post is a sponsored collaboration between Quirky G.E. and Studio@Gawker.