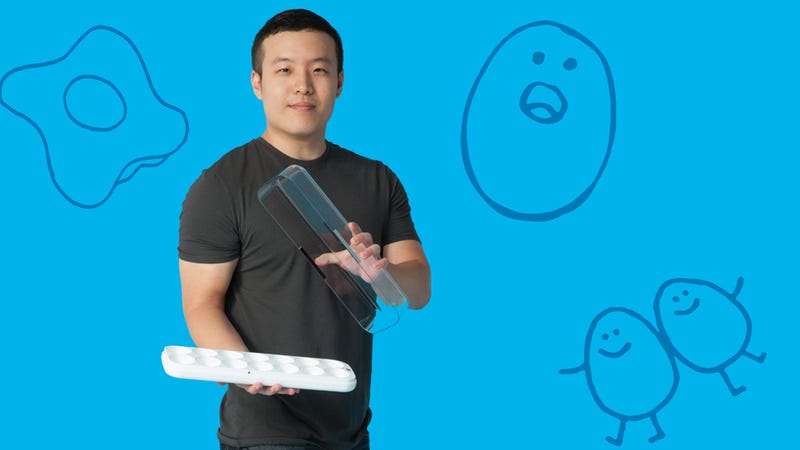 Rafael I. Hwang's Egg Minder makes you think, "Wait, how do I not own this already?" Isn't that also what you want to hear from your giftees this holiday season as they open your presents? Through the proven creative process of community input, Quirky helps people like Rafael invent products that solve problems and simplify everyday tasks. Not surprisingly, Quirky creations also make ideal presents. After learning about Rafael's experience as a Quirky inventor and the inspiration behind the Egg Minder, we knew he'd be a perfect curator for a holiday gift guide.
The Story Behind the Egg Minder
The Egg Minder solves a problem anyone who spends time in the kitchen will encounter: finding yourself staring at a carton of eggs with absolutely no idea which ones are rotten. With the help of Quirky, Rafael invented an egg carton that syncs with Wink, an iOS and Android app. Wink shows you how many eggs are in your Egg Minder, and when each of them will go from delicious to dangerous.
Rafael, a business analyst (when he's not thinking up smart home appliances), invented the Egg Minder with a much grander notion than simply keeping track of the status of one's eggs. "It will serve as a gateway to many more Internet-connected home devices in the near future, a good way to introduce the concept of the 'Internet of Things' to the masses." Quirky offers inventors a collaborative community that embraces the effort to combine the physical with the virtual to simplify everyday tasks, which is at the heart of Rafael's inspiration. Well, that along with showing the haters who's boss. "Negative thinking from negative people inspires me; I like proving them wrong."
Rafael's Gift Recommendations
Rafael knows how to create a must-have item, so we asked him to share his inventive brain for your holiday shopping needs. He provided the following list of novel gift ideas that have come out of the Quirky community. The days of family and friends faking glee is officially over!
Quirky Pivot Power and Pivot Power Genius

"I own two Pivot Powers, the original and the Pivot Power Genius, and I can confidently say that no other original power strips functions quite like this one. Although other high tech power strips in the market may offer a variety of built-in features, the Pivot Power actually does what a power strip should do that the other ones don't - it makes use of every single power outlet. Sounds like a big "duh" but we all know that we all share this common problem of not being able to plug in multiple bulky AC adapters into our old power strips, well the Pivot Power solves this quite effectively."
Quirky Shower Station

"I believe organization is one of the key components that make up a productive lifestyle. Not that I have obsessive-compulsive disorder, but if I keep my desk organized, my closet organized, and my toolbox organized, why can't I have my shower organized? The primary reason why I like the Shower Station is because it allows the user to personalize how they want to organize their shower stuff."
Quirky Cordies

"Another useful product, Cordies solves the problem of keeping cords off the floor. Based on the images I thought I was merely getting some cheaply made product but I was incorrect, the product's quality is not cheap at all and it really does the job. The weight is stable and the gaps are friendly to work with."
Have more than four people on your list? (The answer to this should be yes.) Head here to learn more about these and other Quirky products that can easily transform from an imaginative invention to an inspired gift.