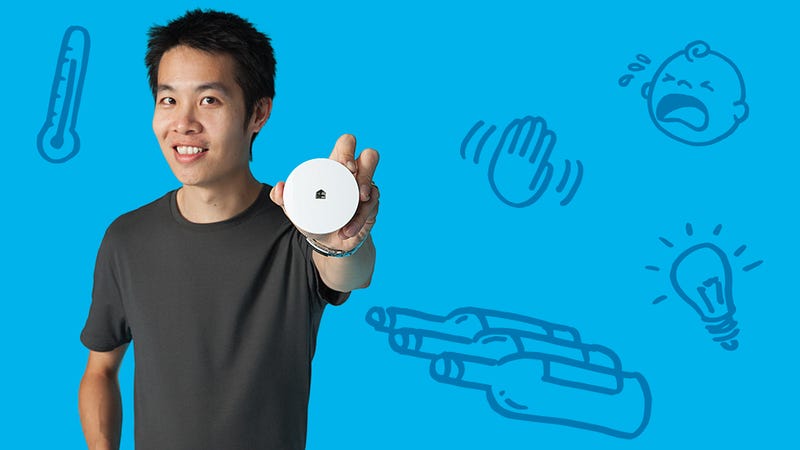 With the help of the innovative design company, Quirky, Denny Choun Wai Fong invented a gadget that solves a problem that's held humans back since…well, forever: we only have one set of eyes and ears. Can you think of a better gift this holiday season than a tool that essentially enables your family and friends to be in multiple places at once? With input and influence from the creative members of the Quirky community, Denny was able to turn this concept into a product called Spotter. Now he's helping you get your holiday shopping done early, so the mall is one place you won't have be in the next few weeks.
The Story Behind the Spotter
According to Denny, the Spotter "was born of necessity." He had a six-month-old son, his wife was going back to work, and he was in charge of childcare on his days off. He soon realized that "simple tasks like keeping an ear or eye out for when the laundry was done or when the oven was preheated proved to be a difficult task when 100% of my attention was to attending to my six-month-old."
While his appliances had alerts, it was impossible to keep track of everything with a crying baby requiring constant diaper changes. Denny needed a device that kept him aware of the status of a number of appliances by sending information directly to his phone — but this only invited further inspiration. He realized he could also incorporate motion sensors to monitor doors, lights and drawers. As he delved further into his idea, "the possibilities became endless." Quirky offered the ideal collaborative environment to make an invention out of Denny's inspiration. The sleek, simple Spotter is a gadget with countless uses.
Denny's Gift Ideas
The Spotter is the perfect gift to ease the chaos of holiday cooking and family gatherings because, as Denny says, "it's all about spending more time with the people one cares about and less time running around checking things." It's no surprise that the Quirky approach to design and invention has enabled its members to create and influence some pretty cool gadgets. Check out Denny's favorite gift-worthy Quirky inventions, and prepare giftees to be in awe of your skills.
Metal Sliders

"My favorite things to barbeque are Asian cuttlefish, beef, pork and shrimp balls on skewers in the summer. In most cases I can't finish them fast enough for everyone to share since they tend to be my friends' and family's favorite as well. Everyone I know who barbeques would love Metal Sliders."
Shake Kids Backpack
"Most of my friends have toddlers who get all dirty at school by the end of the day. Many times they change out of those dirty clothes at school, bringing them home in their backpacks along with a heap of sand or dirt. Shake Kids Backpack offers a quick way to empty the sand and dirt for every parent, plus it's a pretty cool-looking backpack for the child."
Spotter + Pivot Power Genius

"These two products go hand-in-hand, each enhancing the other's usefulness. I love the innovative Pivot Power Genius design allows all those bulky power adapters to fit. Then match that with the Spotter's ability to sense actions, like the opening of a door or the turning on of a light, which can trigger a power on or off event on Pivot Power Genius. Not only does this combination have universal appeal, it has wow-factor written all over it. These two smart products will make gift receivers look smarter when their friends see them in use. Of course I am probably biased since I invented the Spotter."
There are a ton of amazing Quirky gadgets ready to be wrapped, and even more making their way from concept to product via the Quirky community. Head here to check out the Quirky community.
This post is a sponsored collaboration between Quirky and Studio@Gawker.